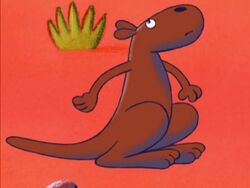 Joey the Kangaroo is a young kangaroo and the son of Janet and Elvis.
Physical Appearance
Joey is a red kangaroo, much like his mother and father.
Personality
In his first appearance, Joey was unable to jump by himself. Ribbit was able to give him a pair of boots, which helped him jump when he was small. Joey soon began to jump after trying out the boots. In later episodes, Joey is usually kind of curious, but usually a bit of naughty. His mother Janet is a bit protective of him.
Appearances
Season 1
The Story of Joey the Kangaroo (first appearance)
The Story of Wally the Wombat
Season 2
The Story of Phoebe the Koala
The Story of Alan the Aardvark (kangaroos mentioned only)
The Story of Joey's Camping Trip
Season 3
The Story of the Big Billabong Wave
The Story of the Play and Splash Pool
The Story of Joey's Sleepover
The Story of the Together Stones
Season 4
The Story of the Jimjameree Tree
The Story of the Boomerangball Game
The Story of the Last Buluru Berry (last appearance)
Gallery
Animation
Books
Trivia
The name "Joey" is a synonym to a baby marsupial, which is also a baby kangaroo.
He is friends with Jimmy and Phoebe.
His first favourite food is soup with eucalyptus as an ingredient. This shares the same traits with Phoebe. Both, he and Phoebe are friends with Mr. Platypus who like eucalyptus.
His second favourite food is also Buluru Berries.
As stated above, Joey is based on a red kangaroo.
Community content is available under
CC-BY-SA
unless otherwise noted.