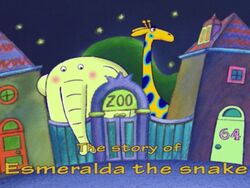 Esmeralda gets into a conflict with Herbert after he gets his home washed away. The two had a big argument when Herbert clumsily puts a watermelon in Esmeralda's home.
Summary
Main Zoo
Lucy gets fed up with the monkeys having their turn to tell a story for shouting. Both monkeys tell the story of a neat and tidy snake.
Story
Somewhere in the desert near the jungle lives Esmeralda, who likes to keep things neat and tidy. On the other side is Herbert, who likes to make things messy. His home gets flooded by a rain cloud, thus leaving him homeless. Herbert meets up with Tickles and Giggles and can't stay with them. He later meets up with Esmeralda and is given a few house rules. He is told not to touch her collection of neat things.
Herbert brings his set of rocks at her home. As Herbert starts playing, vibration occurs in Esmeralda's home. Herbert delivers a watermelon to her home. As Herbert kicks the watermelon in her home, everything was a mess. Esmeralda is very upset with Herbert doing his bad antics. A sandstorm starts blowing away her home and both animals were homeless. Alan arrives and gives the two animals a new home. He hires Ronald to create a new home and the two have three rooms: one for neat cleaning, one for messy, and one for mixtures.
Moral Ending
Lucy is very happy after the two monkeys both told the story together.
First Appearances
Gallery
Video