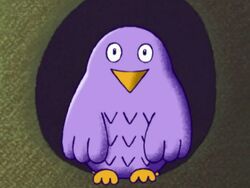 The unnamed owl is an purple owl who lives in Africa.
Personality
It is a nocturnal owl who sleeps in trees. Not much personality is known about this owl. It can notice danger approaching, since owls are very intelligent in seeing things.
Appearances
Note: This character does not speak. Therefore, it does not have any lines.
Season 1
The Story of the Elephant Bird (debut)
Season 2
The Story of Ronald and Rosie
Gallery
Trivia
A similar owl appeared in the Zed book written by An Vrombaut. However, it is purple.
It may be based on a Short-Eared Owl.